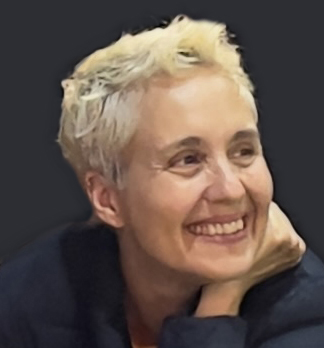 Stefanie Lenk has over fifteen years of professional experience as a graphic designer. She has worked both in-house and as a freelancer for clients in both Germany and North America, in industries from book and magazine publishing and national television to medical/academic research and general service providers.

In 2012 Stefanie completed an MSc in Medical Art at the University of Dundee (Scotland), augmenting her skill-set with additional in-depth knowledge of human anatomy, medical practise, research and ethics, which has been of immense benefit in her work with clients in the medical sector. Ranging from clean simple vector illustrations to highly detailed drawings with a precise attention to scientific accuracy, she provides innovative visualisation solutions which uniquely bridge the gap between theoretical knowledge and practical understanding.
From 2016-2021 she also worked part-time as an academic research assistant at the Freie University in Berlin, writing for academic publications and teaching workshops on conceptualising and drawing visual narratives. Her continued interest in knowledge visualisation extends beyond the boundaries of medicine and health into projects revolving around social practise, education, and technology.
website architecture, design and implementation (CMS / wordpress)
print materials (books, magazines, brochures, flyers, etc)
posters, displays, advertising
museum exhibition materials
infographics (still and animated)
illustrations (digital/vector | traditional)
dissertations | academic publications
trade show materials
television graphics
(medical) surgical visualisations and educational materials
English (native speaker)
German (fluent | C2+ level)
French (B1-B2 level)
design | Adobe creative suite (expert) | Photoshop, Illlustrator, inDesign | inCopy | Adobe Experience Manager (specialisations: layout of print publications, vector illustrations & photo retouching/colour correction)
animation | Adobe AfterEffects | Adobe Premiere
3D | Cinema 4D (3d modelling / texturing) | Autodesk Meshmixer | Autodesk Maya (basic) | 3d printing | 3d scanning
web | content management systems (Tiny MCE, WordPress, Figma | Elementor Pro) | Adobe Dreamweaver/Flash | basic CSS & HTML
social media  | facebook, twitter, instagram, tumblr, blogger
word processing | Microsoft Office | OpenOffice
old-school | drawing (graphite/pen), painting (watercolour / acrylic / ink), analogue photography b/w and colour darkroom developing, manual pre-press work (film-stripping/manual imposition), printmaking, woodworking, sewing, basic electronics
other technology | Omax waterjet CNC machine, Connex 500 Objet 3D printers, Legend 36ext epilog lasercutter, Mcor IRIS 3D paper printer
also | enthusiastic, quick learner, reliable (consistent meeting of deadlines), embarrassingly well-organised, open communicator, good with criticism, works well both independently and in teams.
2021 | EDV Multi-Media Marketing | Comcave College | (DE)
Video editing and motion graphics | certificate (grade 1.7)
Adobe After Effects | Adobe Premiere
Maxon Cinema 4D | 3d modelling and animation


2019-2020 | PhD candidate | media studies | University of Köln (discontinued due to lack of flexibility in program regarding practise-based research)

2011-2012 | MSc Medical Communications | University of Dundee (Scotland) post-graduate degree with honors for dissertation
2004 – 2005 | Book and magazine publishing | Centennial College (CA)
post graduate diploma with honors (specialisations: graphic design, pre-press, print production)
1996-1999 | The Art Centre | Central Technical School (CA)
post-graduate diploma with honors | fine arts and graphic design
1994-1995 | Concordia University | Liberal Arts College (CA)
Studies in 20th century literature, art and music history and European philosophy